Now Integrate Bigcommerce with OdooERP
A Odoo ERP module developed specially to leverage Bigcommerce with OdooERP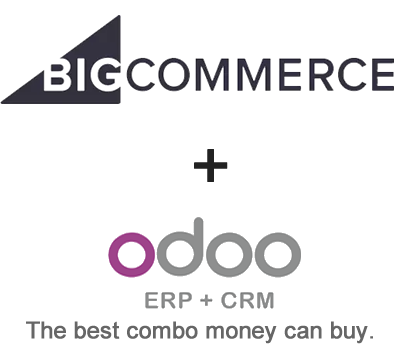 Bigcommerce Module for Odoo 14.0/15.0/16.0
Integrate Bigcommerce with your Odoo ERP in the most easy way with our Bigcommerce module specially designed with your e-commerce requirements in mind.
Import your online orders, contacts, and invoices to process them further in your Odoo ERP with ease updating your Odoo inventory on the fly. Thus giving you an extended functionality to integrate the most popular ecommerce platform with the most versatile ERP framework.

Order Management

Import Orders, Credit Notes, Invoices & Contacts from Bigcommerce

Customer Management

Sync Customers details from Bigcommerce and vice versa

Product Management
Import & Export products details and sync inventory levels

Returns & Refund

Manage Returns by importing and validating returns and delivery order

Seamless Integration
Bigcommerce Odoo Module integrates seamlessly with your ERP data and provides you the required MIS.
Instant Data Update
Orders, Contacts, Invoices etc and synced instantly with yoiur Odoo ERP giving you the much needed insight.
Two Way Sync
Sync your data both ways with flexibility to determine what you want and how you want based on your business.